---
About Us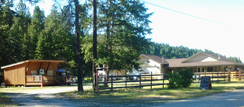 Hello folks well we have been serving this property now since 2014 and we are happy to report that we have upgraded almost everything on the property. We have taken the old hunting/forestry camp and turned it into something pretty awesome. Renovations of the cabins, decks, paint, landscaping, three new stores, showers, awesome clean outhouses just to mention a few. We are now hosting weddings, parties, anniversaries, reunions etc, along with housing loggers, workers, hunters, fishers and just plain outdoor fun adventurers. If your looking to unplug, rewind and relax we may just be the place to do it.
Our Rates are seasonal but reasonable, in this ever increasing stressful expensive living, we offer a step back in time when things were more simple and less expensive. We look forward to treating you to an amazing relaxing experience as our team has grown and now includes 2 extra hard working, people pleasing souls.
" "

Our company stayed here in Spring 2015! Wonderful, sunny, dry country with so many great views and wildlife sightings. On top of that, the hospitality is fantastic!
K.Elchuk
About Our Property
This property has been running for many years as a hunting and reforestation camp. The original owners who started this camp were Earl and Eva Watters, hence the name Double E. There have been several owners since these fine folks and with each owner there has been a little something new added. We also will be adding a little something new each year as we are here to continue improving this amazing space.
We have opened our doors to all year adventures and would love to accommodate groups that need a place to stay.
Rates do fluctuate from season to season so please don't hesitate to give us a call and we will let you know what specials we have available. We also do have group rates at all times of the year.
Booking early is a very good idea also as we are quite busy from Sept to Dec.
We look forward to meeting you and impressing you with what we have to offer.
About Our General Store?
We have many of the staples that are required to make your experience in this pristine outdoor setting very convenient.
Open Daily 9am - 6pm. Open later in the summer time
---